BODEGA Y VIÑEDOS PRADOREY
ONE OF THE MOST VISITED WINERIES IN RIBERA DEL DUERO
We are in the ROYAL SITE OF VENTOSILLA, a large three-thousand-hectare estate bought by Isabella the Catholic Monarch in 1503. A place laden with beauty and history, barely an hour and a half from Madrid, where you can discover our project first-hand: one of the most ambitious and innovative enterprises in the Ribera del Duero, the Duero riverside. During our tours and tastings, you will enjoy sharing with us our passion for the world of wine.
OUR VINEYARD MAKES OUR WINES UNIQUE
We make all our wines exclusively with our own grapes. Very few can say the same. We have returned to our grandparents' old ways of making wine; we are pioneers in Ribera del Duero winemaking in centuries-old earthenware jars and in fermentation with native yeasts… and we are also champions in innovation. The result is natural, fresh, thoughtfully made wines that fully reflect the character of our land.
SLEEP LIKE A MONARCH IN THE HEART OF THE RIBERA DEL DUERO
In the Posada de PRADOREY, the PRADOREY Inn, visitors can stroll around the same rooms that in the seventeenth century hosted famous figures such as King Philip III, Duke of Lerma, Lope de Vega or Rubens. Built in the Herrerian style by the Duke of Lerma in 1601 as a hunting lodge for King Philip III, it is today among the most distinctive and recommended accommodation venues in the area, with 18 rooms perfect for relaxing and disconnecting in a unique setting and enjoying a friendly and welcoming atmosphere.
OUR VINEYARD MAKES OUR WINES UNIQUE
Pradorey is located in the largest estate in the North of Spain (Real Sitio de Ventosilla) in the eastern part of the Ribera del Duero, one of the highest quality areas of this Designation of Origin, due to its altitude, terrain, climate and soil composition.
This land shares history, 520 hectares of vineyards and 900 hectares of oak forests, poplar groves, cereal crops, maize, potatoes and beets, spacious areas where cattle graze, clean energy sources, an Inn and a winery offering all kinds of wine tourism activities.
MAKING HISTORY SINCE 1503
Durante siglos, el río Duero ha bañado 7 km de nuestras tierras con el fluir constante de sus aguas. Testigo privilegiado de grandes historias y pasiones susurradas en cada uno de sus rincones.
PLANES ESPECIALES DESDE EL 18 DE SEPTIEMBRE AL 30 DE NOVIEMBRE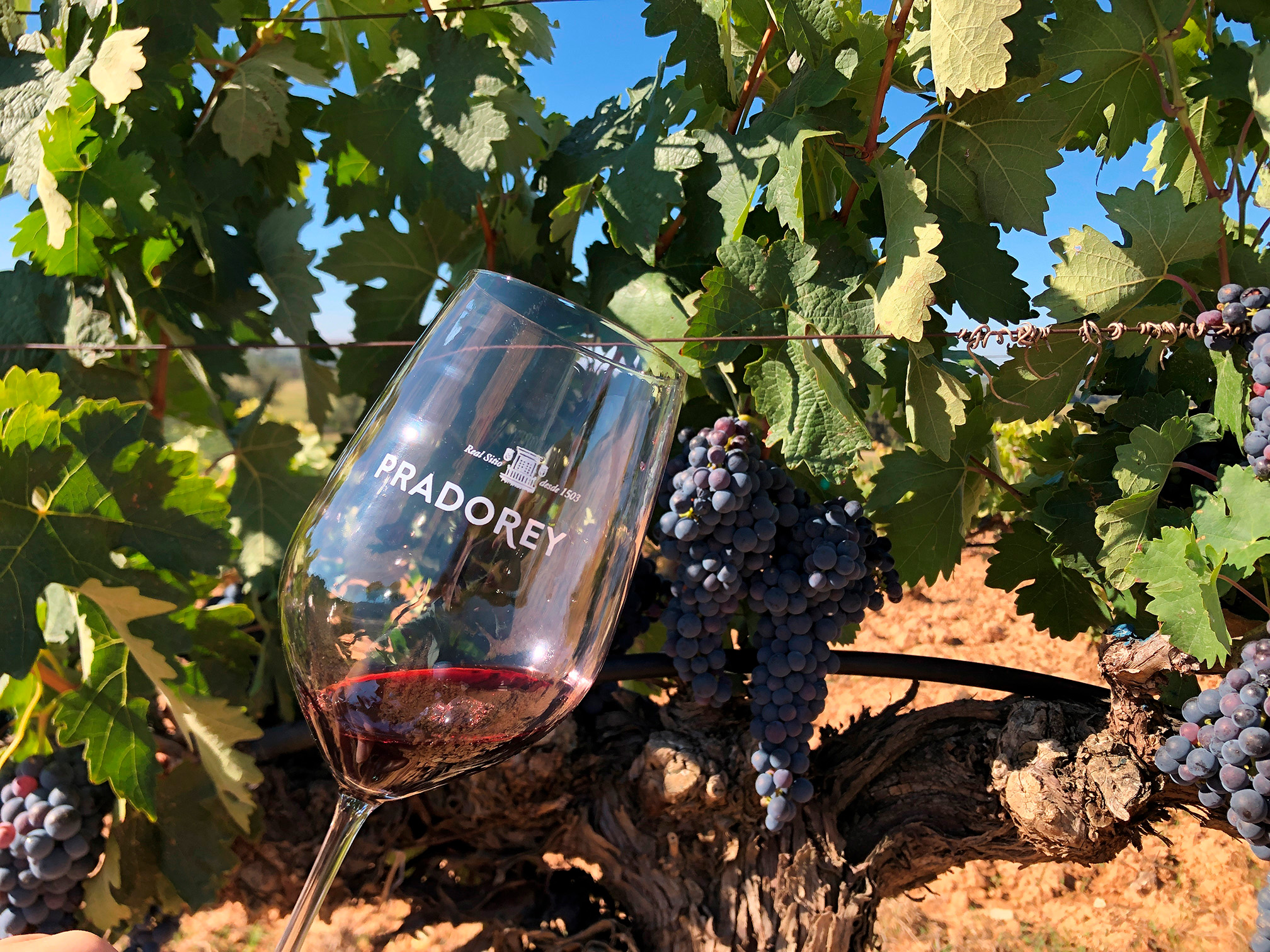 Wine and Health The pairing of these two words is unsurprising, isn't it? Wine has often been touted as healthful when consumed in moderation, beneficial for

Fernando Rodríguez de Rivera Cremades, grandson of founder Javier Cremades de Adaro and third generation at the helm of our winery, took over as general manager

There are many ways to make wine, but there is only one that is able to overcome time so that it is the soil, the vineyard and the grape that transcends. Subsequently the Solera ageing process begins. OXIDATIVE AGEING VS BIOLOGICAL AGEING It is clear that ageing is one of the most important factors in determining the quality of a wine. If
GIVE AN UNFORGETTABLE EXPERIENCE